Our production team is well acquainted with latest techniques of manufacturing and well versed with various codes of manufacturing such as ASME, ASTM, AWS, DIN, EN and IS. We train our welders for various welding techniques and positions, and are qualified under Lloyd's DNV, BVQI, Tata Projects.
Our Strength
We have highly skilled and qualified machine operators with vast experience to cater to the intricate and complex machining requirements. We also periodically upgrade our staff with latest machining techniques and machine tools.
25000 Sq.Mtrs.in 3 state-of-arts work shops
Bay-wise Infrastructure
COVERED SHEDS
18 MTR X 200 MTR X 15 MTR
18 MTR X 200 MTR X 15 MTR
21.5 MTR X 200 MTR X 15 MTR
COVERED SHEDS
7 NOS OF EOT CRANES FROM 30 TO 100 TONES CAPACITY
2 NOS OF MOVABLE CRANES (HYDRA) 14 TONES CAPACITY
12000 Tons Fabrication area
Process-wise capabilities
Covered Sheds:
Messers Make CNC profile cutting machine with capability to cut up to 300 mm in thickness.
Speciality welding includes FCAW, MIG and TIG and ARC Welding processes.
Plate bending machine capacity of 70 mm x 3100 mm for rolling plates and 1000 tons press capacity to make dishes and cones.
SAW Boom and column welding machine to weld C-Seam and L-seams joints of big shells.
Technically qualified welders and approved WPS, PQR for various positions, materials and thickness up to 100 mm.
S.R.Furnace of size 9000 mm x 6000 mm x 5000 mm.
Grit Blasting Facility | Painting booth | Airless spray facility.
Sea worthy packing infrastructure for export .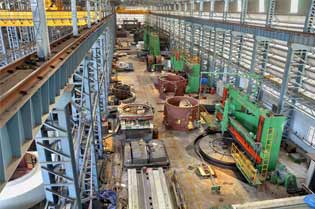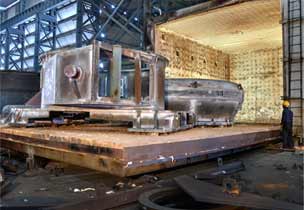 100 Heavy Machine Tools
More than 100 machine tools
20 vertical borers ranging from 1000 mm to 10000 mm and a height of 5000 mm
Large size horizontal borers of spindle size ranging from Dia 125 to Dia 225 mm
Big gantry milling machine for fast and accurate milling
CNC vertical, horizontal 3-axis, 4-axis machining centres.